Technical Questions
My van has a cable duct on the floor at the back. What now?

We come across this cable duct very often, but it's easy to work with! They are mostly made of sheet metal and 4 cm high. Depending on where it runs, you have two options for mounting the Mobilade:

1st option: Mount the rear foot of the Mobilade between the cable duct and the bulkhead to the living are. Of course, this is only possible if there is still a 4cm wide space left. That depends entirely on the individual vehicle. In this case, the mobilade stands like a bridge over the cable duct. Usually you have to put a 2cm high plywood board under the feet.

2nd option: Mount the rear foot on the cable duct. We recommend mounting it with 3M VHB tape. With a MONO, this is usually sufficient. A DUO should also be attached to the side wall with 2 brackets and screw nuts. Then she is safe. The front foot must of course also be set higher. A 2cm high plywood board is usually required here.
Do you use heavy duty slides?

No way! Because heavy-duty slides are only for fire engines! These
Industrial drawer slides are mostly designed for a load of 85-120kg and are accordingly heavy and bulky. You never have so much weight in a camper. Especially not when this weight is divided between several drawers. Our drawers were developed and built 100% in-house and are optimized for mobile homes. They're made of aluminum and steel in just the right places to be super light, yet strong enough. In addition, our drawers are particularly compact and make the frames of the Mobilade as narrow as possible. In this way, the storage space is used in the best possible way.
How strong are the Mobilades?

Our individual drawers are always designed for 46kg: 26kg in the rear box and 20kg in the front. This is completely sufficient for everyday motorhome use. We have designed the Mobilade to be as light as possible, but still sufficiently stiff. To give you a better idea of ​​the load, you can think of it as roughly the weight of two packed suitcases on an airplane. The vast majority of packed boxes weigh just 12kg.

The Maxi Mobilades are wider and therefore designed for 60kg: 30kg in the rear box, 20kg in the middle and 10kg at the very front.
Are the Mobilades built from industrial aluminium profiles?

No. We build our mobile shutters from laser-cut and folded aluminum and sheetmetal. This construction makes the Mobilades extremely light and yet very strong. A construction made of aluminium profiles is relatively simple and leaves little room for creative freedom. It's just long rods with grooves in them. Our mobilades, on the other hand, are very complex and elegant.

A construction made of aluminium profiles would inevitably be twice as heavy as our Mobilades. A DUO 120, for example, weighs just 13kg and is 46cm wide. If you were to build a drawer system of the same size from aluminium profiles, it would have to be at least 50cm wide and weigh almost twice as much. This is simply not the optimal solution and also allows for much less sophistication in the design. Our constructions also contain countless diagonal braces, which ensure that the frame is very stiff and stable.
Is the height adjustment for loading sills already included?

Yes! Every mobilade comes with the height adjustment. If you don't need height adjustment, you don't need to attach it.
How does the height adjustment work?

The height adjustment is attached to the two feet and sets the whole Mobilade a little higher so that you can pull the bottom drawer out over the sill. It works with loading sills from 0-58mm of height. If the loading sill is higher, you can always put two plywood boards under the feet.
Do the drawers lock?

When closed, all drawers are securely locked. But we don't have a latch in the extended state. We thought about it carefully, because in everyday motorhome use you open and close the drawers about 10 times a day. Mostly just to get a little something out. A lock in the extended state would be very annoying. You don't have that in the kitchen either, because you don't need it.
Matching boxes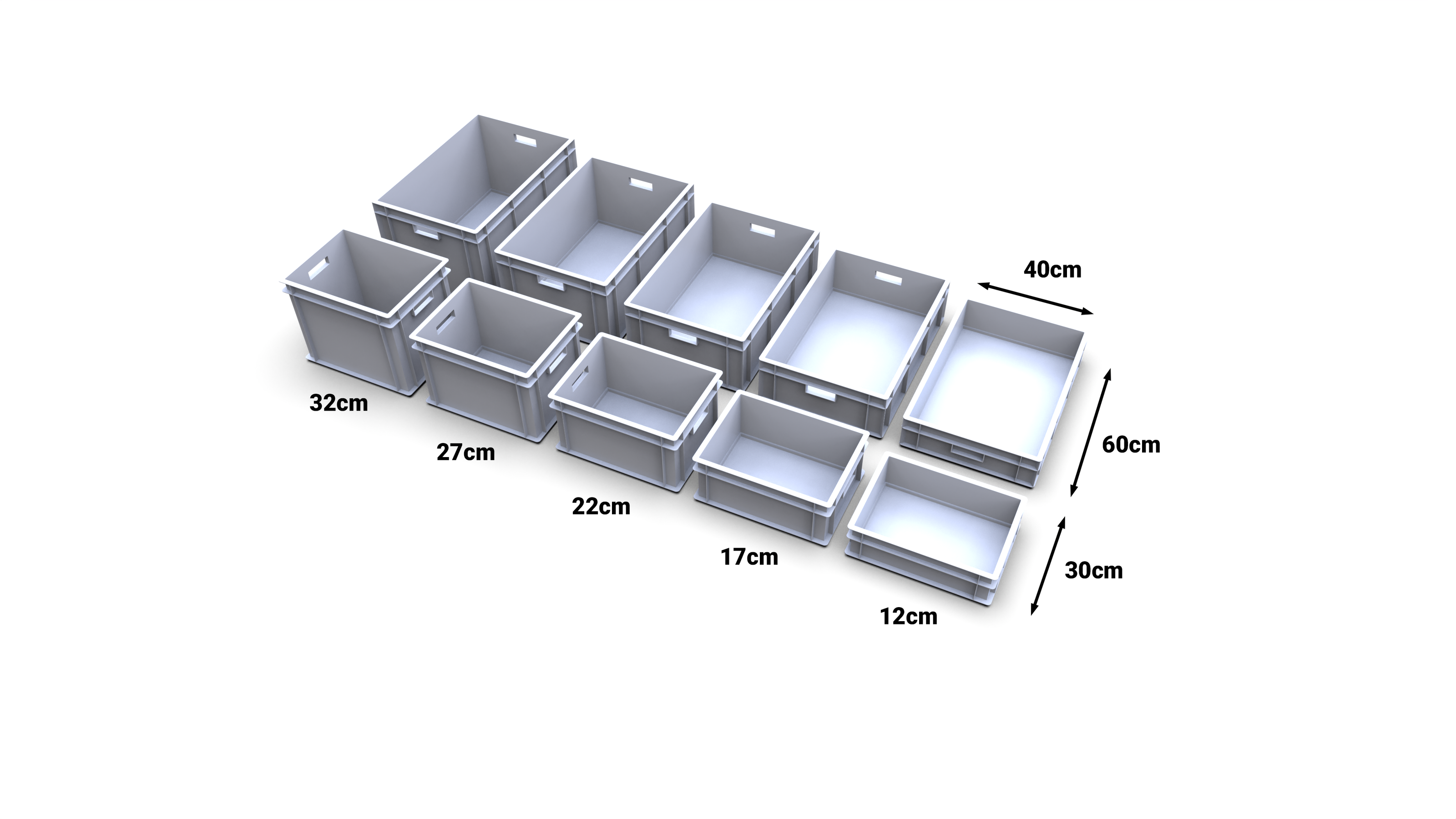 Where can I get the boxes from?

This is very easy, because you can buy them in any hardware store all over Europe. Thats why they are called Euro-Boxes. The industry uses them en masse and every butcher, baker or catering business as well. In the food industrie they are always red to indicate that they are food safe. You can also order them online with europe wide shipping from the reputable company auer-packaging.com.
Can I also order the boxes online?

Yes! We recommend the Auer company. They produce in Germany and are very reliable. On their website you can find all the boxes that are available. You can mix and match different sizes and varieties.
Which boxes fit in the Mobilade?

Euro standard boxes with the basic dimensions 30x40cm and 40x60cm. They are available from many manufacturers, but they are all compatible with each other.

There are different heights ranging from 7 all the way to 47cm.

With the MONOs, the height doesn't matter. They are open at the top. However, we do not recommend choosing them higher than 32cm, because it is difficult to keep order in boxes that are too high.

The DUOs and TRIOs always fit 22cm boxes. There is still 3-4cm air above it. This is important for ergonomics, because the boxes are usually loaded over the edge and nothing should tilt. Incidentally, your kitchen drawers are constructed in exactly the same way. Have a look!

The Plus models always accomondate 32cm high boxes in the bottom drawer. That is very practical for bulky objects like boots or helmets.


With the DUO 120 Maxi, boxes of any height can also be used in the upper drawers, as they are open at the top. This is only possible because the Maxi models have such a large footprint, so we do not need a brace at the top.
Can you also use half sized boxes?

Yes! For example, a large box measuring 40x60cm can be replaced by two smaller boxes measuring 30x40cm.
Can you also stack boxes on top of each other?

Yes, but we only recommend this for very small boxes. Because everything that is stacked on top of each other is no longer easy to get to. That would not be so practical. The goal is to find everything easily and quickly. This is only possible if you can see everything at a glance.


However, it is worth putting a 12 cm high box with the basic dimensions of 30x40 cm in every Mobilade and on top of that two even smaller boxes with the basic dimensions of 15x20 cm and also a height of 12 cm. There you can then wonderfully sort all your water hose and gas adapters. Because the boxes are so small and light, you can pick them up with one hand and just have a quick look underneath.
General questions
Do you also offer bike holders?

No. We prefer to specialize in just one product and do it very well. Even if the demand is high. We also cannot recommend putting a bicycle on the Mobilade. The dimensions just aren't practical for that. It is better to buy a ready-made bicycle extension for that.
Do you also do custom-made products?

Yes, we do that from time to time too. The prices are then about twice as high as for our regular models, because custom-made products require a lot of time and manual work. However, if you are willing to spend a little more to get an individual solution, we are happy to help.

However, the vast majority of customers will find a suitable model from our product range.
Can I really call Mobilade anytime?

Yes! We know it's unusual, but that's the way it should be everywhere. Most customers are busy with their motorhomes at the weekend. That's why we want to be available there too. We really look forward to every call and would be happy to advise you.

Most customers also assemble their mobile shutters in the evenings or at the weekend. If a question comes up, it would be a shame if you had to wait until the next day for an answer.

If we can't answer the phone, we'll always call you back! Usually within 30 minutes.
Do you also install the Mobilades on site?

Unfortunately, no. We have specialized in the mail order business and are not a mobile home workshop. But that doesn't matter, because everyone can do the installation themselves at home. And if not, any do-it-yourselfer, technician, caretaker, car mechanic or one of the countless mobile home workshops can do it for you. We also support anyone who has questions over the phone. At any time!
Do they offer discounts or promotions?

No. Discounts create a certain urgency to quickly dust off 5%. But we don't want to push our customers at all. The most important thing for us is that the customers are happy with their Mobilade in the end and that it fits into the vehicle in the best possible way. Also, it wouldn't be fair if some customers paid more than others.